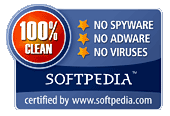 Mr. Notes is a free system tray-based note taking software solution. Click on its icon any time you need to jot something down. It remembers its settings and contents from session to session. You can print, insert rich text and plain text files, and use bullets. Other features include the ability to manually paste in images, MIDI and .wav files, shortcuts, and more; exporting of text as plain or rich text; insertion of the date and time; and changing the font size with keystrokes. Options let you set font and colors, set a window size, and minimize the program on startup.
"Your Mr. Notes is the best, best, best little note-taker there is out there, and I've looked at many of them. It's far and away the fastest working one."
Read more testimonials.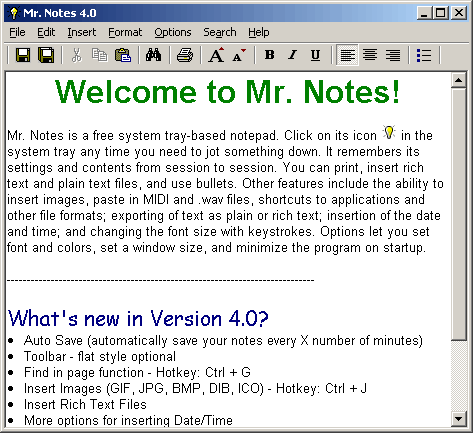 Key Features in version 4.0: (marronish text means it isn't working quite right in this beta version)
Auto Save (automatically save your notes every X number of minutes)
Search and

Replace

Insert Images (GIF, JPG, BMP, DIB, ICO) – Hotkey: Ctrl + J
Insert Rich Text Files
Insert Date/Time
Can optionally

remember the position

of Mr. Notes

(has a problem when minimized and the user exits)

Can optionally remember the window size of Mr. Notes
Word Wrap (a little buggy when some text is centered and word wrap is off)
Quickly convert selected text to Uppercase, Lowercase, or Propercase.
4.0 has improved menu's including a new new Right click menu
Pressing the escape key minimizes Mr. Notes to the system tray

Mysterious periods appear on the line immediately following bullets every time the notes are saved and re-opened. Hey wait, this isn't a new feature! :-P

Download Mr. Notes 4.0 beta – 63 KB


Download Mr. Notes 3.0 – 25 KB – Does not work on Windows 2000 or XP