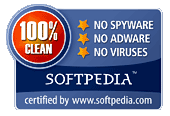 Kill Docs provides a layer of security if you are concerned about the contents of your Documents menu and/or the Recycling Bin. With Kill Docs you can automatically empty the recent documents menu and the recycling bin at a user-defined interval. If you don't want that you can specify which to empty when you double click the system tray icon (by the clock) or with a right-click to the system tray icon you can select which to empty.
"Hey! I download your "kill doc" program…. So easy, simple, direct, wonderfull!!!"
Read more testimonials.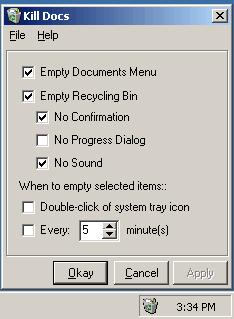 Download Kill Docs 2.0 – 383 KB
- If you have Windows 95, IE 4.0 with Active Desktop must be installed.

Download Kill Docs 1.52 – 14 KB – Does not empty the Recycle Bin
Verion 1.52 requires VB 5.0 Runtime files.
This software is no longer developed or supported.