This software is no longer developed or supported.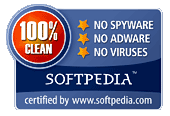 Do you wish you could free up more taskbar space? Or maybe you wish you could easily see what the time and date are with your task bar on Auto Hide? Time Thingy does both! Time Thingy is a floating clock replacement designed to free up valuable taskbar space by allowing the user to remove the Microsoft clock and still be able to see the time! Time Thingy can be positioned anywhere on your screen (floats), and remains always on top making it a very easy clock replacement! With Time Thingy running you can see the time and/or the date even if your taskbar is on auto hide!
"Your time thingy program is a great idea, simple, small, and wonderful to use."
Read more testimonials.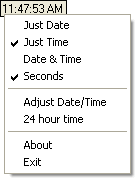 Before:



After:


Command line switches (to override settings):

-date (only date)
-time (only time)
-timesec (time with seconds)
-timedate (time and date)
-timedatesec (time, date, and seconds)
-noadjust (Adjust Date & Time menu item is not visible)

How to remove the clock from the system tray:

Right-click on the Windows Clock
Select 'Properties'
Uncheck 'Show clock'

How to use command line switches:

Create a shortcut to Time Thingy
Right-click the shortcut and select properties
Click on the shortcut tab
The location box should look something like this:
"Drive:\path\time thingy.exe" -date

Download Time Thingy 1.62 – 296 KB
This software is no longer developed or supported.